Bagley's Start of School FAQ
Posted on: August 28, 2022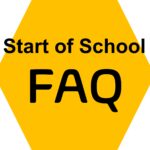 Start of School FAQ
First Day Packets include:
Student Reunification Emergency Form
FERPA form (to select permissions for photo sharing, etc.)
Device Agreement and $25 Fee (link to come soon)
$40 School Supply Fee
Walking Field Trip Form
Free and Reduced Meals Form
Attendance
Absences
Late Arrival

The playground gates will close at 8 AM. Please bring all students to the front office when arriving after 8 AM for check in.

Early Dismissal
If you are picking up your child early, please call the main office at 206-252-5110 or ring the bell when you arrive. We will have your child gather their materials and meet you in the main office.
Lunch
Lunch Accounts

Current Prices: Breakfast is $2.25 and Lunch is $3.25
Every student is assigned a lunch account, whether they plan on buying a meal at school or not.
To add money to their account you can pay online
You can also apply for Free Meals online

Lunch Codes/Pin

When any student gets a meal they enter their code. This ensures we are tracking on their noted allergies.
Our nutrition services staff and teachers will support students in learning their Lunch Pin.
Home-School Communication
Weekly Principal's letter (School Messenger and Website), Weekly video, PTA Newsletter, Regular teacher emails, Talking Points texting
What to wear
Send your child with a change of clothes to keep at school in the event of an accident.
Please send your child with a coat each day, in case of sudden changes in weather. We really value outside time, and only cancel outside recess during extremely heavy rain.
Lost and Found
The lost and found clothing rack is located under the outside covered play area.
School Arrival
7:30 AM – Gates open for breakfast in the cafeteria
7:40 AM – Blacktop supervision starts. Please supervise your child on the blacktop if you arrive prior to 7:40 AM and they are not eating breakfast in the cafeteria.
7:40-7:50 AM – Students find their cone line spots on the blacktop and line up.
7:55 AM – Teachers will walk their class into the building.
All students that take a bus will have supervision when they arrive.
Let your child's teacher AND the main office know of any changes to your child's pick up routine. We ask for a minimum of 30 minutes notice of a change, so we can share this information with all adults involved.
School Dismissal
Families can park in the parking lot or on side streets and enter the side gates off the playground.
Please find your child in line and make eye contact with their teacher, to ensure they are going home with the expected adult.
If your child is going to Boys and Girls club they will be escorted to the cafeteria.
If your child is going home on the bus they will be escorted to a bus line and attendance will be taken on each bus before departing.
Volunteering
Category A volunteers work in the school building for field trips, and other whole class support. Category B volunteers work directly with students on tutoring and other one on one situations. Category B volunteers require a one-time background check. The application lasts for two years.